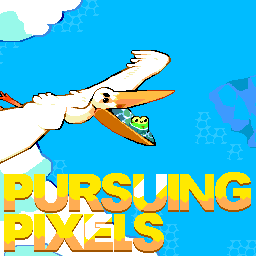 Welcome back to Pursuing Pixels, and welcome back to another edition of 'Save it for the 'cast!'
This week, we're looking into the future with a conversation from the pre-roll of an upcoming core episode of the podcast—and we're ALL over the map!?!
But before that, Kevin gives a quick shout out to a couple of awesome games from Wired Dreams Studio.
And in the interest of synchronicity, we briefly mention our indie game book club, 'PP Potpourri'—as this is both the 7th week of the club, and also the 7th edition of SIFTC!
Timestamps:
Red Ronin -  00:01:06
Raven's Hike  -  00:04:08
Thanks so much for taking the time to listen!  If you'd like to find us elsewhere on the internet, you can find us at: